The Wisconsin Dells area is rich in history, and local museums provide a window to the near and distant past. From Native American Heritage to The Bennett Photography Studio Museum, from many annual festivals to street entertainment in historic Downtown, you can share in Wisconsin's past. It has a unique charm created by cultural wealth and exciting tourist attractions. The wild beauty of the country around Wisconsin Dells, the river, breathtaking scenery, unusual limestone rock formations, immense forest, and multiple lakes are worth making an effort to see. The perfumed scent of pine trees in the air adds to the feeling that you've stepped back into another era. The view of the Wisconsin River as well as the boats and ducks passing by provide the best view in the city, and a sunset on the river is never taken for granted.
Maybe it's time to test your knowledge, expand your mind, and find out how fun science can be at The Tommy Bartlett Exploratory Interactive Science Center. Perhaps you would prefer to spend a day or a long weekend at one of our festivals or antique shopping in any of our charming stores, making memories that will last a lifetime. The little German Village of Wisconsin Dells, one of the highlights of Bavaria, can easily be explored on a city stroll from the motel. Also, the Ripley's Believe It or Not Museum has the Temple of Discovery, and a four-dimensional theater opened last summer.  So, take advantage of the season. Though the weather might not always inspire strolling, visit as many restaurants and attractions as you can, attend performances of bands on the Broadway Street you have never heard of, and attend some theaters, so you will go away with some idea of what this Wisconsin Dells atmosphere is all about.
While visiting Wisconsin, you have to try one of the specialties, and you can think of them as an idea for a small present for relatives back home. Wisconsin Dells has a few special regional products. The first is cheese, which is present in almost all recipes of local restaurants. They have a variety of foods to sample, from great burgers to Wisconsin plates with steaks, pork chops, turkey legs, venison sausage, seafood, and international cuisine, just waiting to be devoured. Homemade apple pie makes a delightful ending to your meal. Quench your thirst with fresh lemonade or a glass of cold iced tea.
We would like to propose that you try a walk through Wisconsin Dells, a city that used to be considered a place just to eat and sleep. In fact, it is among the world's best known and best loved tourist destinations. It has some very interesting features, its local history, and its own special places, and of course, the fabulous indoor/outdoor water parks and go-carts. They will get your heart racing.
You will delight in the finer things of life and journeying back in time. You will find it all here. Take time to relax and enjoy a stay in beautiful Wisconsin Dells at the Fitzgerald's Motel. There's something for every age and interest, and everything is easy to reach and is surprisingly affordable! One of our guests said, "We loved that the room was spotless when we arrived. My parents have photos going back to the 1950's, and we're definitely keeping the family tradition alive for our kids. Benches and overlooking planters give the small motel a distinct charm. Also, we enjoyed sharing talk on the balconies with a fresh cup of coffee. To watch the downtown visitors go by was fun. The price sure was right. We had a wonderful time. Thank you."
May you all come in!
We invite you from our hearts.
And with traditional hospitality,
we will serve you, our guests.
Joy in your day!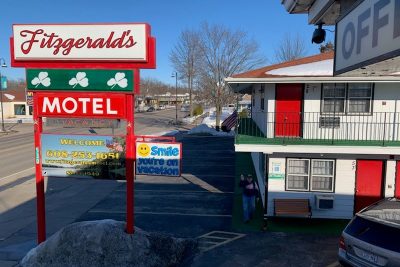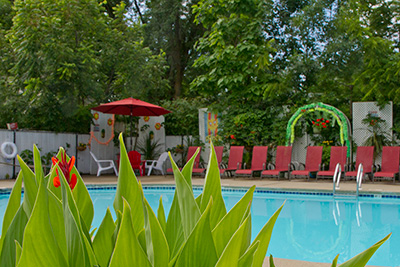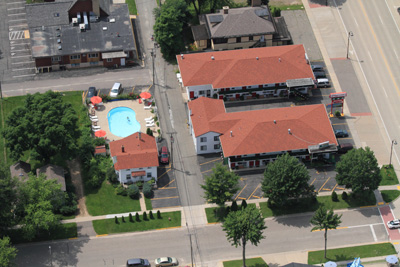 FESTIVALS
Automotion (May)
Taste of Wisconsin Dells (June)
WO-ZHA-WA (September)
Autumn Harvest Fest (October)
Dells Rare Barrel Affair (May)
Independence Day (July)
Fall Wine Walk (October)
Dells on Top Weekend (October)